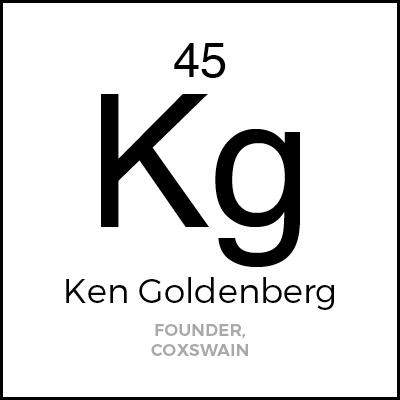 Ken was born in Philadelphia in 1955 and grew up in the Cheltenham/Abington area. In 1973, he graduated from Germantown Academy. From there he went to Trinity College in Connecticut, where he majored in biochemistry and then anthropology. At Trinity, he became very close with an English professor named Jim Miller, who was the head of the Black Studies department at State University of New York at Buffalo in the 60's and a good friend of Eldridge Cleaver. Jim suggested to Ken that if he really wanted to engage in positive social change, it was now happening in the courts and he should become a civil rights attorney. Ken was Phi Beta Kappa and graduated at the top of his class at Trinity.
After college, Ken taught English to recent immigrants in Philadelphia, and then went to Washington to work in the Equal Opportunity Employment area. He then attended Harvard Law School, where, among other things, he was very involved with the Civil Rights/Civil Liberties Law Review. Upon graduating law school, Ken went to clerk for Judge John R. Bartels in the Federal District Court, Eastern District of New York, in Brooklyn. This was probably the foremost constitutional law judicial forum in the country because of its jurisdictional scope and ability to hear major criminal/constitutional cases. After his clerkship, Ken was awarded a highly competitive fellowship with the Center for Law in the Public Interest in Washington, D.C. The Center was funded by The Rockefeller Family Fund and The MacArthur Foundation. Its scope was civil rights law and environmental law, but also peace initiatives through legislation committed to democratic processes like the National Environmental Policy Act.
However, Ken became frustrated practicing law in Washington at the Center. He felt like there were aspects of the effort that missed the point and that the focus was often on macro issues, but lost sight of the heart and impact different activities/programs had on real people on the street. So, following his fellowship, in the interest of taking some time off to see the world, experience different cultures, and figure out what he wanted to do next, Ken put a backpack on his back, and he and his girlfriend at the time bought a one-way ticket to Hong Kong. From there they made their way into China (although this wasn't officially permitted) and spent the next year traveling through Southeast Asia, Nepal, India, Burma, Thailand, and ultimately through Europe. During this, Ken had a lot of time to reflect.
It was not long after this that he decided to return to Philadelphia, go to the Wharton School of the University of Pennsylvania on the weekends, obtain an MBA, and develop a real estate company, with the hope of building an annuity that would afford Ken the opportunity to then pursue his own public interest agenda in the fashion he felt most appropriate. Helpful in this effort was the fact that Ken's father, Bob, who he was (and remains) very close to, albeit semi-retired at the time, had developed some real estate of his own and could teach Ken the ropes. In 1987, Ken started The Goldenberg Group. And over the course of the next 25 years, built it into one of the 2 or 3 premier real estate development companies in the Philadelphia region, maybe even on the East Coast. The Goldenberg Group's specialty and orientation was always towards transformative projects that would positively impact the communities in which they were developed in substantial ways (the Metroplex in Plymouth Meeting, the Ayer on Washington Square, the Carriage Homes at Haverford Reserve, ParkWest Town Center in West Philadelphia, Columbus Commons/IKEA/Snyder Plaza in South Philadelphia, etc.). In part, this was often achieved by joint ventures with community groups, much as Ken and The Goldenberg Group are joint venturing their current development efforts at 12th & Cecil B. Moore Avenues (across the street) with the Brighter Hope CDC.
In any case, after about 15 years of building the real estate company, in the late 90's, Ken recommenced his public interest efforts in the interest of fulfilling his vision/dream. Then, in 2007, Ken created People Helping People Kenya and People Helping People Philadelphia. And then, in 2011, Ken created People Helping People Ivory Coast. Today, Ken spends almost 3 months a year in Kenya himself, working People Helping People Kenya, where he maintains that he is almost more at home there than he is here! And the charity now has extensive operations in education, food assistance, microfinancing, and myriad projects throughout many communities, including efforts with handicapped homes, HIV patients, a school for the blind, feeding programs, area hospitals, Alcoholics Anonymous groups, water projects, etc. In the Ivory Coast, the charity works closely with the Little Sisters of Charity of Don Orione, a group very close to Ken's heart in Kenya, assisting the handicapped and a local hospital. In Philadelphia, the charity has been doing monthly volunteering projects for six years as well as myriad other charitable efforts related to education, food assistance, etc.
Throughout all of this, and maybe as important as anything, Ken is a family man and his greatest joy, as he tells it, has been fathering his two boys, Josh and Hank, and also his stepchildren, Micah and Leila. Over the years, Ken coached just about every sport from the age his boys were four until they were in their mid-teens, as well as attended almost every violin lesson, piano lesson, and school function, no matter what else was going on in his life! And today, he cites as his greatest joy and source of pride, even more than his efforts with People Helping People and The Goldenberg Group, his family and, in particular, his kids.
Education MBA, The Wharton School of Economics, University of Pennsylvania JD, Harvard Law School BA, Trinity College.