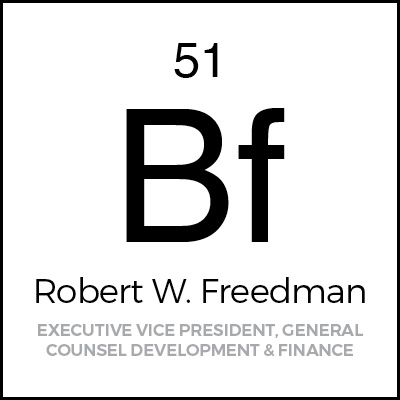 Bob has over thirty years of real estate financing, law and development experience. Bob has been with The Goldenberg Group since 1995. As Senior Partner and General Counsel, Bob's responsibilities include negotiation and closing of construction loans, permanent financing and working capital, handling various contract and other legal matters as well as design, permitting and approval of shopping center and residential projects.
Bob has financed and developed over $1 billion of commercial real estate projects with The Goldenberg Group, and previously with Hansen Properties, and Construction Consultants Company. Prior to entering the real estate development business, Bob practiced real estate law with the law firm of Cohen, Shapiro, Polisher, Shiekman & Cohen.
Bob is a graduate of the University of Pennsylvania, where he received a B.S. in Economics (cum laude) from the Wharton School and a J.D. from the University of Pennsylvania School of Law.
Bob is a member of the Urban Land Institute and the International Council of Shopping Centers and also a member of the Israeli Bond Real Estate and Finance Division.
Send Email