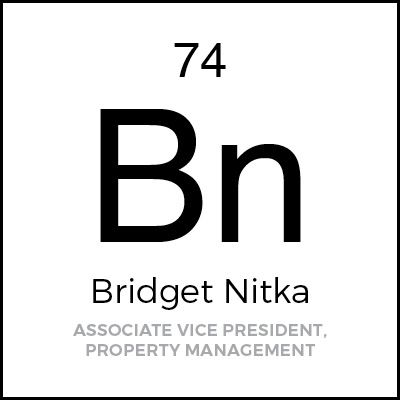 Bridget brings over 15 years experience in event operations, planning and production. As a director of events at The Goldenberg Group, she plays a unique role in the real estate development industry. Bridget conceptualizes and manages a wide variety of corporate and community-based events within the company including neighborhood improvement projects, employee volunteer days, ground-breaking ceremonies, political events, trade shows and golf outings.
Prior to joining The Goldenberg Group, Bridget worked as an Account Executive with General Exposition Services, a trade show organization where she was responsible for developing and executing over 75 trade shows annually throughout the Greater Philadelphia region. Additionally, she worked as Director of Event Operations for the Pennsylvania Horticultural Society (PHS) where she managed the set-up, tear down and daily operations for the Philadelphia International Flower Show, the largest indoor flower show in the world.
During her time at PHS, Bridget and her team were awarded "The Grand Pinnacle" for the Best Event in the World by the International Festivals and Events Association (IFEA).
Bridget is a graduate of Temple University where she received a B.A. in Advertising.
Send Email